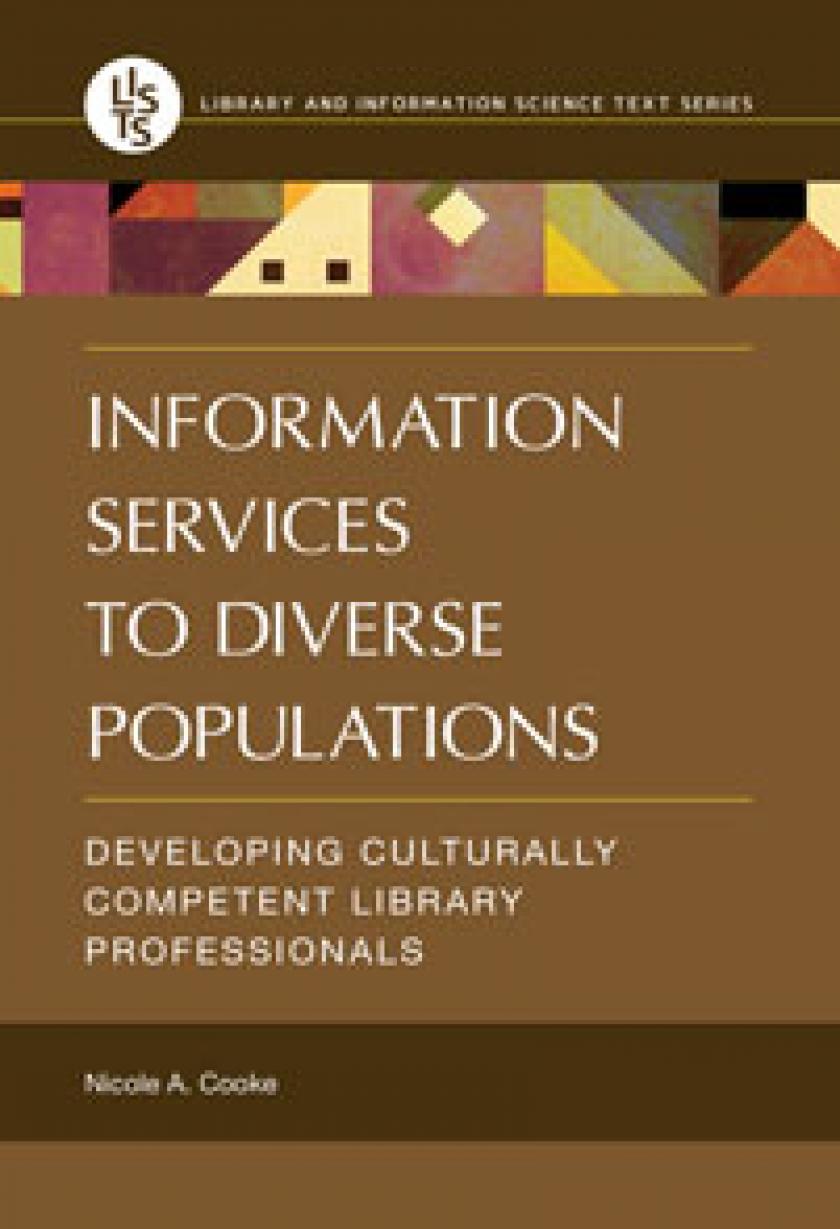 Assistant Professor Nicole A. Cooke's book, Information Services to Diverse Populations: Developing Culturally Competent Library Professionals, is now available from Libraries Unlimited.
Description: This textbook and comprehensive resource introduces students to the contexts and situations that promote the development of empathy and build cultural competence, examines the research in the areas of diversity and social justice in librarianship, explains how social responsibility is a foundational value of librarianship, and identifies potential employment and networking opportunities related to diversity and social justice in librarianship.

A valuable book for students in graduate library and information science programs as well as LIS practitioners and researchers interested in knowing more about the topic of diversity in the profession, Information Services to Diverse Populations: Developing Culturally Competent Library Professionals addresses the political, social, economic, and technological divides among library patrons, covers transformative library services, and discusses outreach and services to diverse populations as well as how to evaluate such services, among many other topics.
The book is based on Cooke's course, Information Services for Diverse Populations (LIS 547), and its appendices include a sample syllabus and sample assignments.
"Considering the diversity of clientele in all types of libraries in the U.S., this should merit an entire course on the topic. However, this is not the case in most LIS programs. In this way, Illinois is ahead of the curve, thanks to Dr. Cooke's efforts and expertise. Dr. Cooke's book provides an introduction for students and a refresher for all professionals who work with these diverse populations. It is a landmark publication," said Dr. Blanche Woolls, ABC-CLIO/Libraries Unlimited editor.
"I'm extremely proud of this book! This is the culmination of four years of teaching and research at the iSchool, and is based on the diversity class I created and currently teach," said Cooke.
"Essentially, I wrote the book that I wanted to use in my classroom. It consolidates the literature in a way that I think will be helpful to students seeking an introduction to the topic, and to practitioners wanting to dive more deeply into the scholarship in this area. It also contains some reflections and thoughts about how we can consistently incorporate diversity into our professional practice and organizations, in an effort to better serve our diverse populations."
Cooke was named a "Mover & Shaker" by Library Journal in 2007 and was the 2016 recipient of the American Library Association's Equality Award as well as the Larine Y. Cowan Make a Difference Award for Teaching and Mentoring in Diversity. Her research and teaching interests include human information behavior, particularly in the online context; critical cultural information studies; and diversity and social justice in librarianship with an emphasis on infusing them into LIS education and pedagogy. She holds an MEd in adult education from Penn State, and a Master of Library Science and PhD in communication, information, and library studies from Rutgers University, where she was an ALA Spectrum Doctoral Fellow. Cooke serves as a member of the Spectrum Advisory Committee, a subcommittee of the American Library Association Committee on Diversity.