Master's student Natalie Leoni is the winner of this year's Graduate Student Exhibit Contest and the C. Barbara Mueller Award for Excellence in Exhibition Design, sponsored by the University of Illinois Library. Her exhibit, "Mapping Fiction," showcases holdings from the University Library's collections, displaying literary maps from books such as Winnie-the-Pooh and The Hobbit. The exhibit highlights how maps like these were created and disseminated.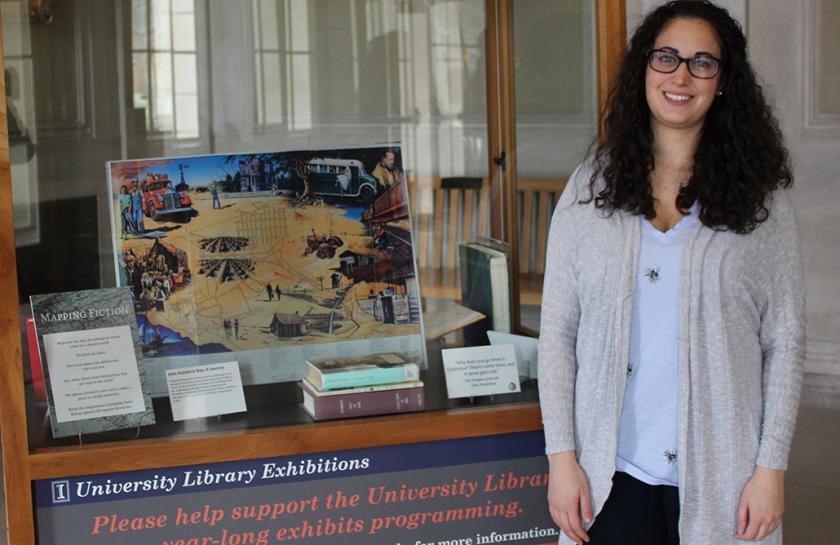 According to Leoni, the inspiration for her exhibit came from a field trip taken by her History of the Book class last semester.
"Our class went to the Maps Library, where Jenny Johnson had laid out several interesting maps for us to examine. I was drawn to a book that was devoted to the galactic maps of Star Trek. It made me wonder what other fictitious places were meticulously mapped out," she said.
She hopes that visitors to the exhibit will discover that maps and map makers are not just for the "real world."
"In fact, many authors and writers labor over creating maps for places that can only exist in our minds. Even in these fictitious places, readers still expect some directions."
After graduating from Illinois with her bachelor's degree in history, Leoni volunteered at her local library and loved it, which led her to the iSchool for her MS/LIS degree. In the future, she would like to pursue a career in book or paper conservation.
The exhibit, "Mapping Fiction," will be on display at the University Library's Marshall Gallery through the month of February.