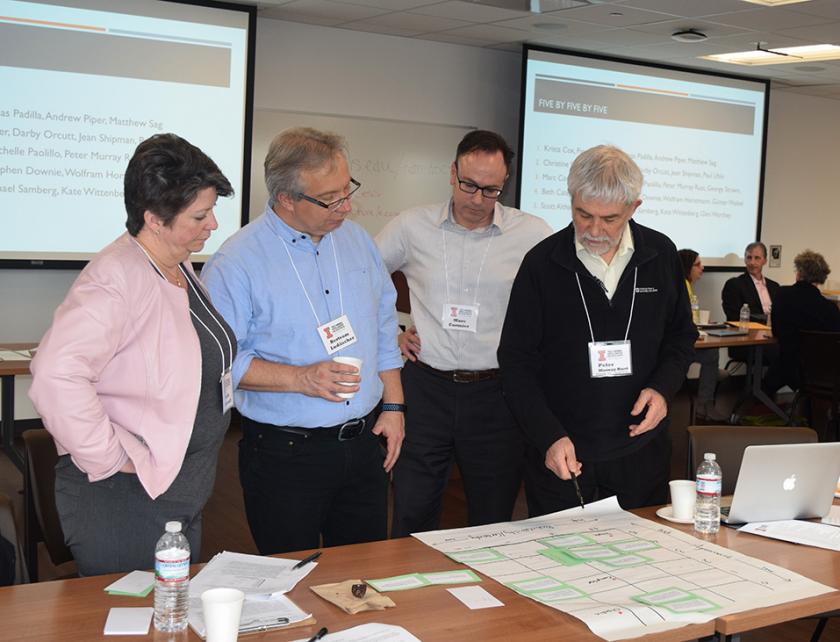 A group of cross-disciplinary experts gathered in Chicago on April 5 and 6 for a national forum on text data mining research. The forum, Data Mining Research Using In-copyright and Limited-access Text Datasets, was coordinated by iSchool faculty and staff and funded by the Institute of Museum and Library Services (grant LG-73-17-0070-17).
Principal Investigator Bertram Ludäscher, professor and director of the iSchool's Center for Informatics Research in Science and Scholarship (CIRSS), led the effort with co-principal investigators Megan Senseney, CIRSS research scientist; Beth Sandore Namachchivaya, university librarian at the University of Waterloo; and investigator Eleanor Dickson, visiting digital humanities specialist for the HathiTrust Research Center.
"Our goal in convening a forum around text data mining with use-limited data is to situate academic libraries within a much broader landscape, articulate points of convergence and divergence among key stakeholder groups, and set forth a strategy for libraries to expand their research data services to include support frameworks for text data mining," explained Senseney.

"Our recommendations, forthcoming as an ACRL white paper, will focus not only on gaining access to these data but also on strategies for documenting and disseminating workflows and hosting and preserving research outputs," she said.
The local advisory committee included the following iSchool faculty: Professor and Associate Dean for Research J. Stephen Downie, Assistant Professor Jana Diesner, Associate Professor Victoria Stodden, and Professor Ted Underwood. Other members included Daniel Tracy (MS '12), information science/digital humanities librarian and assistant professor at the University Library; Melissa Cragin (PhD '09), adjunct assistant professor and executive director of the NCSA Midwest Big Data Hub; Scott Althaus, affiliated faculty member and Merriam Professor in Political Science, professor of communication, and director of the Cline Center for Advanced Social Research; and master's student Sara Benson, copyright librarian and assistant professor at the University Library.