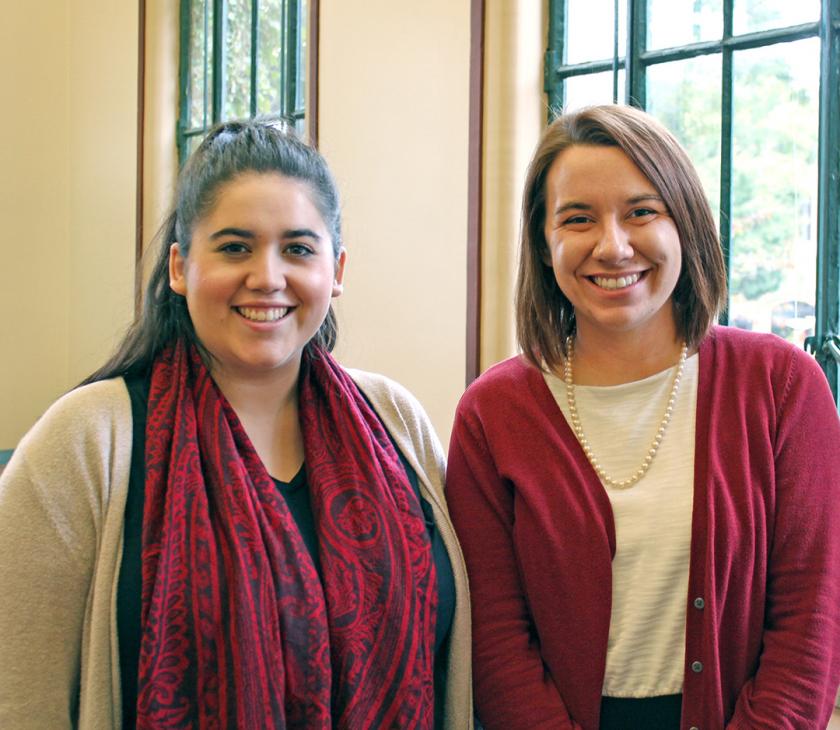 The iSchool launched a new apprenticeship program this fall with The Urbana Free Library. The program, which is modeled after an internship partnership between the Dominican University School of Information Studies and Skokie Public Library, will provide students with practical experience and additional exposure to all facets of library operations.
Through the iSchool's practicum course, students can gain work experience and explore career options in a wide variety of professional settings. The course, which is not required but highly recommended, counts as two credits toward the master's degree. The course is typically taken for one semester and allows a student to spend 100 hours total at the practicum site.
"The apprenticeship program is like a practicum on steroids," said Assistant Dean for Student Affairs Meg Edwards. "Each apprentice works 15 hours per week in the fall semester and earns two credits. If successful, they continue in the spring semester. The apprentice has both a faculty supervisor and library supervisor, who meet to discuss the student's progress in the program. As part of the spring apprenticeship, students are required to complete an independent study for four credit hours. The students are awarded a fellowship to complete this academic work."
The program provides value for students, since they obtain a full year of experience in a variety of areas in the library, along with financial support. The continuity also creates value for the library.
"Hosting an apprentice over two semesters instead of one provides patrons, library staff, and the apprentices a longer time over which to build relationships with each other and learn from each other," said Celeste Choate, executive director of The Urbana Free Library.
The iSchool and The Urbana Free Library offered two apprenticeships for the 2018-2019 pilot program: one in the Champaign County Historical Archives and the other in Adult & Youth Services.
Master's student Angela Solis, apprentice for the Archives, worked in a public library after graduating with her bachelor's degree in history in May 2017. She applied for the apprenticeship program because while she loved working in libraries, she knew her true passion was in archives.
"I volunteered at the University of Dayton Archives my senior year and left every day with a smile on my face because I enjoyed what I was doing," she said. "When I came across the apprenticeship program focusing on archives, I knew I had apply and at least try to get the position."
Solis enjoys the hands-on experience of being an apprentice and appreciates how what she is learning in her iSchool classes complements her work at the library.
"The week we talked about cataloging and metadata in Information Organization and Access (IS 501) was the same week one of my supervisors explained how one of the next steps for the special collections reappraisal project would involve cataloging and metadata. The opposite has also happened, when I am doing something in the archives and discuss it in class the next day."
Anke Voss, The Urbana Free Library's director of archives and special collections, serves as Solis' library supervisor.
"Angela is working with our collections and also serving patrons, making valuable contributions in both areas," Voss said. "She has updated inventory information for over three hundred special collections and is currently evaluating those collections for processing priorities and creating finding aids for them. This information will allow patrons to view preliminary finding aids for collections that previously had little or no intellectual access. Angela has been a wonderful addition to our staff!"
Master's student Kelsey Pietens, apprentice for Adult & Youth Services, thought the apprenticeship seemed like a great way to get a lot of experience in a public library. She holds a bachelor's degree in English education from Colorado State University, and her previous work experience was as a substitute teacher and campus minister.
"The best part about being an apprentice is that I get to try a lot of things," Pietens said. "My iSchool classes gave me the foundation I needed—an understanding of the reference, technology, and fundamental principles of librarianship. The apprenticeship lets me put what I've learned into practice."
Pietens is supervised by Rachel Fuller, the Urbana Free Library's director of adult and youth services.
"Kelsey has been trained to provide reference and technology support in the Flex-n-Gate Computer Center, which primarily serves adult patrons, and has also started observing and providing support to multiple librarians for programs that serve community members of all ages," said Fuller. "Next month, she will work with Development & Promotion to learn about the process of creating promotional materials. In the spring, she will be trained to work at the Question Desk, which primarily serves children, and will complete projects in the Circulation and Acquisitions departments. By the end of the year, we expect she will know nearly every library staff member."
The iSchool hopes to grow the pilot program and expand it to other units within The Urbana Free Library, as well as in other public libraries, which will lead to more apprenticeships for students who are interested in gaining valuable professional experience.