With the pandemic limiting in-person events, the iSchool Student Showcase moved to a virtual format. Instead of poster presentations and lightning talks, students prerecorded three-minute research talks, which were presented at the showcase on April 2 and 7. Students participated in a live Q&A with the audience after their videos were shown. Twenty-four MS students presented their work on a broad range of topics relating to information sciences, and the showcase also featured its first presentation from a student in the new BS program.
"Knowing well in advance that 2021 would have to be virtual, we wanted to innovate an event that still held true to the original goal of the showcase, which is to celebrate student research while bringing the iSchool community together," said Assistant Director of Career Services Rebecca Hodson, who organized the event with Research Development Coordinator Alaine Martaus and MS student Kristin Walters, career services graduate assistant.
This year's Showcase featured four themes: Information Users, Information Practitioners, Information Objects, and COVID-19. The audience voted for the best presentation in each theme, and the winners will be automatically accepted to the School's Research Showcase in the fall.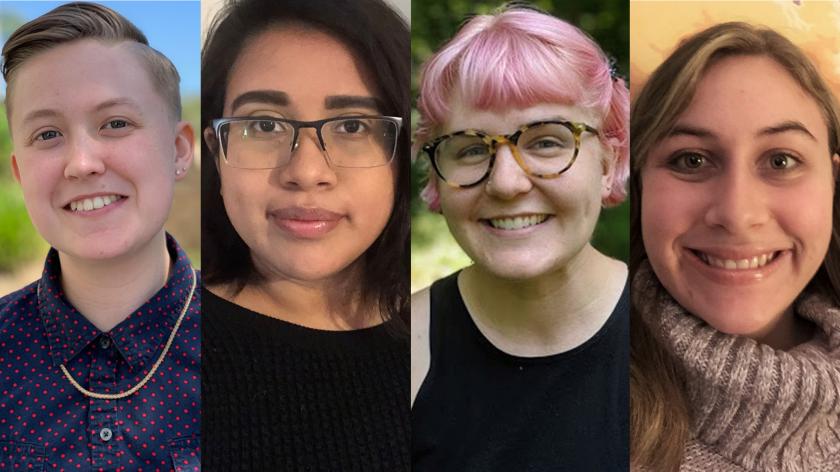 Winners included the following MS/LIS student presentations:
Palid's presentation was based on a research project she completed for the class E-Resources Management (IS 573), which was taught by Adjunct Lecturer Steve Oberg last fall. The showcase was one of the few times she has presented her work outside of the classroom.
"It would have been nice to see and celebrate in person, but there were silver linings to presenting on Zoom," she said. "We recorded the presentations beforehand, so we were given space to mess up and retry—which I definitely did while recording. We did not have to memorize the presentations or make notecards, and closed captions were available for every presentation. Ultimately, I think it was a great experience, and I'm glad I participated."
"Our students took to the new format so wonderfully," said Martaus. "They rose to the challenge and embraced a new skill."
Hodson agreed, "I was so impressed with these students, who went above and beyond by sharing their fascinating research with us during such a challenging semester."