The Business Intelligence Group (BIG), a student consultancy group associated with Associate Professor Yoo-Seong Song's Applied Business Research class (IS 514), has expanded its size and scope this year. In addition to graduate students, BIG now welcomes iSchool undergraduates to serve as consultants.
Over 30 student consultants are working on projects related to digital health, telecommunications, and the metaverse. For example, in one project, students advise clients of possible solutions to address rural first responders who lack access to key medical expertise in critical time-sensitive situations. In another project, they offer recommendations for using AI and the metaverse to address serious side effects of diabetes, such as diabetic retinopathy, in order to diagnose and track treatment response over time.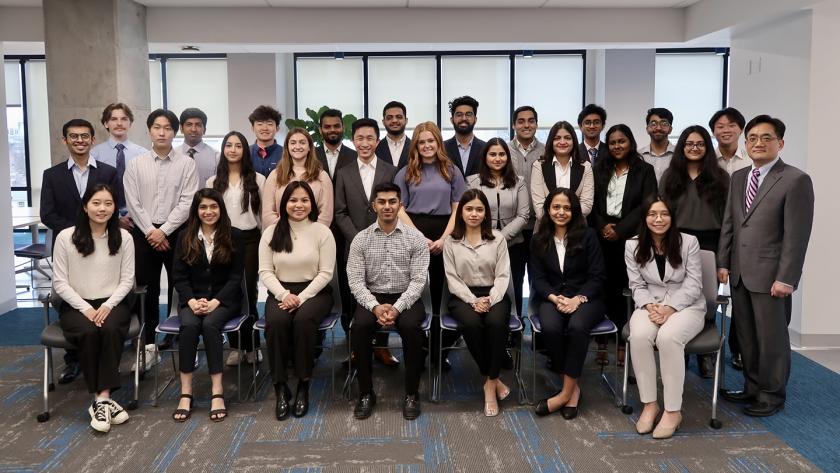 According to corporate partner and client Ferdinand Belga, CEO of Ascertain Biosciences, "BIG has been very impressive in the amount of creativity to think outside of the box with the latest technology (e.g., the metaverse) to solve current problems in healthcare. Problem-solving is a key skill set that the BIG students are not only learning with real-world projects but also working towards advanced problem-solving with subject matter experts across various industries. By the time the students finish, they will be further advanced than other consultants entering the job market."
BIG has joined an international network of collaborators, such as Global Catalyst Partners, a consortium hosted by IE University in Spain through which faculty from top universities share ideas for new technologies. Sung-Chul Bae, associate professor of biomedical engineering at Ulsan National Institute of Science and Technology, serves as an external mentor for BIG, advising a student team on the state of digital health innovation in East Asia. With his guidance, students can develop recommendations appropriate for BIG's client company, one of the largest telecom services providers in East Asia that is exploring several options to enter the digital health landscape.
"Our students are extremely bright and professional, as our clients from previous semesters can attest," said Song. "Former BIG students have been successful in securing wonderful career opportunities in many of the world's leading companies. To better align our students' expertise and interests with the new demands of clients, we've been trying to source projects that deal with digital transformation strategy. We hope to provide iSchool students with opportunities in which they can build competencies in technology and management skills in the global context."
Before his graduation in December, Faizan Saiyad (MSIM '22) served as a project manager and senior manager at BIG. Now a technology consultant at Boston Consulting Group, Saiyad credits BIG with playing a significant role in his career transition from software development to consulting.
"It helped me build my skill sets around solving real-world problems and working effectively in a team. In addition, the cases at BIG helped me to articulate my hypotheses in a more professional way for different audiences, especially during the client and internal team meetings. I believe these three skills are most important for any career path and go a long way," he said.