Travis L. Wagner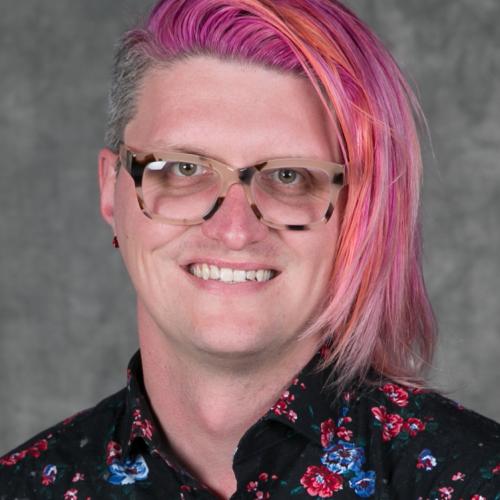 Assistant Professor
PhD, Information Science, University of South Carolina
Other professional appointments
Chair of the Gender Issues Special Interest Group for the Association of Library and Information Science Educators (ALISE)
Chair of the Visualization, Images, and Sound Special Interest Group for the Association of Information Science and Technology (ASIS&T)
Research focus
My research explores the social and technical challenges and opportunities informing how LGBTQIA+ communities digitally curate and preserve their identities, histories, and culture and identifies the roles and responsibilities of institutions in aiding that work.
Honors and Awards
ALISE Community conn@ct Mini-Grant (2021)
Biography
Travis L. Wagner is an assistant professor in the School of Information Sciences at the University of Illinois Urbana-Champaign. Wagner's research interests include critical information studies, queer archives, and LGBTQIA+ advocacy in sociotechnical systems. Their work investigates how LGBTQIA+ communities create identity in opposition to sociotechnical systems that characterize and limit those identities. Multiple projects within the classroom and with community organizations have led to Wagner exploring and publishing the unique relationships between obsolete archival mediums and queer counter-historical work across archival contexts. Their recent publications include articles in the Journal of Information Science, Journal of the American Medical Informatics Association and Artifact & Apparatus. Wagner earned their PhD in information science from the University of South Carolina (USC) and served as a postdoctoral fellow at the Center for Archival Futures (CAFe) and the Recovery and Reuse of Archival Data Lab (RRAD) within USC's School of Information Science. They are the co-creator of the Queer Cola Oral History and Digital Archive.
Publications & Papers
Wagner, T.L., Marsh, D., Curliss, L. (2023). Theories and implications for centering Indigenous and queer embodiment within sociotechnical systems. Journal of the Association for Information Science & Technology (JASIS&T).
Wagner, T.L. (2022). #Zoomfail: Hyper-mediation and the documenting of pedagogical failure on tiktok during covid-19. Wide Screen, 9(1).
Wagner, T.L. (2022). Body-oriented cataloging as a method of inclusive gender representation. Cataloging & Classification Quarterly, 60(3).
Wagner, T.L. (2022). "Every copy is personalized": Queer obsolescence and ludic nostalgia in super mario 64 conspiracy theories. Artifact & Apparatus, 1(1), 22-44.
Wagner, T.L., Kitzie, V.L., Lookingbill, V. (2022). Transgender and nonbinary individuals and ICT-driven information practices in response to transexclusionary healthcare systems: A qualitative study. Journal of the American Medical Informatics Association, 29(2), 239-248.
Wagner, T. L. (2021). "She started wearing men's clothing and acting more masculine": Queering historical knowledge, gendered identity making, and trans potentialities in visual information. The International Journal of Information, Diversity, & Inclusion, 5(4), 21-42.
Wagner, T.L. & Kitzie, V.L.. (2021). 'Access necessitates being seen': Queer visibility and intersectional embodiment within the health information practices of queer community leaders. Journal of Information Science.
Wagner, T.L. & Crowley, A. (2020). Why are the bathrooms inclusive if the stacks exclude? Systemic exclusion of trans and gender nonconforming person in post-Trump academic librarianship. Reference Services Review, 48(1), 159-181
Wagner, T.L. & Blewer, A. (2019). "The word real is no longer real": Deepfakes, gender, and the challenges of AI-altered video. Open Information Science, 3(1), 32-46.
Wagner, T.L. (2019). Reeling backward: The haptics of a medium and the queerness of obsolescence. Alphaville: Journal of Film and Screen Media, 16, 67-79.
Presentations
Wagner, T.L. (2023). "In a way I'm coming out to tall of you tonight": Activist analog media, digital curation pedagogy, and the queer futurities. Paper presented at IAMHIST Conference 2023, Montreal, Quebec, June 20-23, 2023.
Wagner, T.L. (2021). Using LGBTQIA+ History and Queer Theory to Inform Audiovisual Archiving Praxis. Presented at the Special Interest Group-Arts and Humanities Virtual Symposium: How Arts & Humanities Within Information Science Technology Convey Understanding of Justice in Society. June 23, 2021.
Wagner, T.L. & Weiser, G. (2020). Are Saturdays Still For The Boys?: Old Row, Social Media, and the Persistence of Normativity in Southern Universities. Paper Presented at 11th International Conference on Social Media and Society. July 22-24. [Presented virtually due to COVID-19]
Wagner, T.L. & Kitzie, V. (2020). Becoming targets and stepping stones: Mapping queerness and other visibilities in LGBTQ+ health information practices. Paper to be presented at the University of North Carolina-Asheville's 2020 Queer Studies Conference. Asheville, NC, April 3-5. [Cancelled due to COVID-19].
Wagner, T.L. (2019). Assessing needs and providing services for southern women's health nonprofits: A case study. Poster presented at ARCHIVES*RECORDS 2019. Austin, TX, July 31-August 6, 2019.
Wagner, T.L. & Lewis, E. (2018). Teaching through activism: Service learning, community archives, and digital repository building in MLIS classrooms. Paper presented at the Association of Library and Information Science Education (ALISE) 2018 Conference. Denver, CO, February 6-9, 2018.
Wagner, T.L. (2021). "Describing without identifying": The phenomenological role of gender in cataloging practices. Poster presented at the Association of Library and Information Science Education (ALISE) 2021 Conference. Virtual Conference. September 20-24, 2021.
Wagner, T.L. (2016). Can linked data solve for gender?: Envisioning scenarios of gender inclusivity in moving image archives. Paper presented at the 82nd International Federation of Libraries Association and Institutions Assembly (IFLA). Columbus, OH, August 13-16, 2016.