Morgan Lundy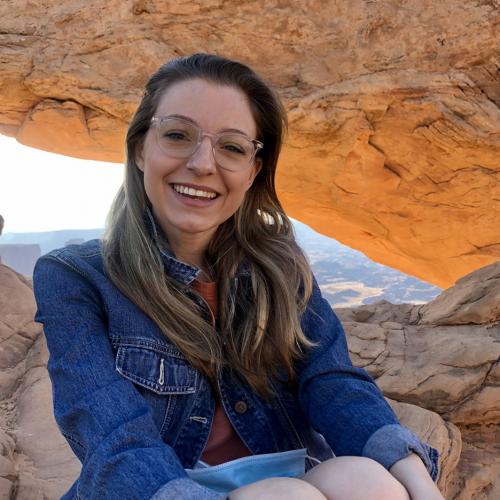 Doctoral Student
PhD, Information Sciences, Illinois (in progress)
MA, English Literature, University of South Carolina
MLIS, Library and Information Science, University of South Carolina
BA, English Literature, University of South Carolina
Research focus
Toward the goal of disability community empowerment through ICTs, my research centers on understanding and co-designing social health information encounters, such as patient-to-patient information sharing online, information creation behaviors through health storytelling on social media—particularly on TikTok—and patient-to-agent conversation (VUI).
Honors and Awards
UIUC List of Teachers Ranked as Excellent, 2022
Digital Humanities Fellowship, University of South Carolina Center for Digital Humanities, 2020
Fulbright English Teaching Assistantship to Malaysia, 2017
Courses currently teaching
Publications & Papers
Lundy, M. (2023). TikTok and COVID-19 vaccine misinformation: New avenues for health misinformation spread, popular infodemic topics, and dangerous logical fallacies. International Journal of Communication. 17, 24. Retrieved from https://ijoc.org/index.php/ijoc/article/view/19847
Desai, S.*, Lundy, M*, Chin, J. (2023). "A Painless Way to Learn": Designing an Interactive Storytelling Voice User Interface to Engage Older Adults in Informal Health Information Learning. In Proceedings of the 5th International Conference on Conversational User Interfaces (CUI'23). Conference. Association for Computing Machinery, forthcoming.
Lundy, M., Desai, S., Chin, J. (2023). Bridging the Gap Between Designers and Users: Co-designing Health-Related Voice User Interface Experiences with Older Adults. In Proceedings of the ALISE Annual Conference. Forthcoming.
Karami, A., Lundy, M., Webb, F., Boyajieff, H. R., Zhu, M., & Lee, D. (2021). Automatic Categorization of LGBT User Profiles on Twitter with Machine Learning. Electronics, 10(15), 1822.
Karami, A., Lundy, M., Webb, F., Turner-McGrievy, G., McKeever, B. W., & McKeever, R. (2021). Identifying and analyzing health-related themes in disinformation shared by conservative and liberal Russian trolls on twitter. International Journal of Environmental Research and Public Health, 18(4), 2159.
Underwood, T., Shang, W., Lundy, M., Wu, P., Jiang, M., Hu, Y. (2021). Broadening access to text analysis by describing uncertainty: Preliminary white paper. National Endowment for the Humanities Archives.
Karami, A., Lundy, M., Webb, F., & Dwivedi, Y. K. (2020). Twitter and research: a systematic literature review through text mining. IEEE Access, 8, 67698-67717.
Presentations
Desai, S.* & Lundy, M.* (2022). Designing for engaging health information learning: Voice user interfaces, older adults, and interactive storytelling. University of Illinois Urbana-Champaign iSchool Research Showcase.
Social Media Research Ethics in Practice. Guest Lecture, Sociotechnical Information Systems (2022).
Upcoming, Blitz Panelist: Advocating for Disability Access: The Bridge We Need, ALISE Annual Conference, 2023.
"Painfully funny, painfully true": Images, social support, and humor for collective coping in fibromyalgia health communities on social media. Social Media + Society (2022).
Tik Tok and Health: Misinformation Spread, Casual Information Encounters and Emerging Health Communities. UIUC iSchool Colloquium Presentation (2022).
Digital & Medical Humanities: An Overview. Invited Lecture, Social Aspects of Information Technology (2021).
Disciplinary Difference: Investigating Text Mining Approaches in Digital Humanities and Information Science. Panelist, Modern Language Association National Convention. (2020).
Community Engagement and Mutual Scholarly Production: New Horizons for Digital Humanities as Activism. Panelist, Modern Language Association National Convention. (2020).
Text Mining Contemporary Popular Fiction: Natural Language Processing-Derived Themes Across Over 1,000 New York Times Bestsellers and Genre Fiction Novels. Thesis. (2020).
Naomi Mitchison, Activist and 'Middlebrow' Author: Writing Women into the Future. Panelist, Northeastern Modern Language Association Conference. (2019).
Cross-Dressing Onstage: Gender Subversion and Tragic Reassertion in Shakespeare's Othello. Roundtable, Northeastern Modern Language Association Conference (2019).
Others and Othering in Children's Literature. Panelist, Southwest Popular/American Culture Association Conference (2019).
Motherly Girls: Babysitting, the Gendered Construction of Home and the Return of Depression-Era Conservative Myth-Making in Carol Ryrie Brink's Baby Island. Panelist, Children's Literature Association International Conference (2019).
The Net[work] That Shall Enmesh Them All: Distant Reading, Social Network Theory, Semantic and Computational Approaches to Shakespeare's Othello. Roundtable, Northeastern and Poster, South Atlantic Modern Language Association Conference. (2018 & 2019).