Courtney Richardson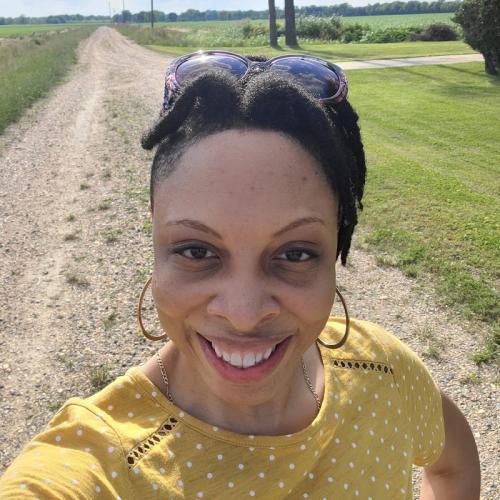 Doctoral Student
Master of Fine Arts, Graphic Design, Wayne State University
Bachelor of Fine Arts, Graphic Design, Kendall College of Art and Design of Ferris State University
Research focus
I work towards imagining new ways of analyzing and re-presenting past documentation and narratives of African American experiences. My research interests live within the spaces of art, archives, and African American Studies. I examine how their intersections can be used to research non-traditional forms of knowledge production and transmission regarding information and society within the Black majority and broader American public.
Presentations
"Re-embodying Historical Data with Art and Design." 2020 Imagining America Online Summit, October 19, 2020. https://iagathering.org/page/courtney-richardson
"Pursuing Art-Design as Research in Graduate School." Graphic Design Department and AIGA (American Institute of Graphic Arts) Student Chapter with WSU Alumni Online Office, Wayne State University, April 13, 2020.
"Telling a Story with Data from an Artist's Perspective." Storytelling with Data Virtual Webinar by Library Administrators Conference of Northern Illinois (LACONI) Tech Program, April 10, 2020. https://bit.ly/3ybXSeo
"Re-visiting and Re-visualizing Historical Data through Textile-Art Processes." University of Illinois Community of Scholars Research Symposium, UIUC, Champaign, IL, March 29, 2020.
"Design Consistency with Omeka Themes." "History Harvest: Collaborative Digital Public History" with Kathryn Oberdeck. Champaign, IL, December 5, 2020.
"Name Mapping the Book of Negroes: A Material/Visual Study on Document Reproduction and Representation of Cultural Memory." Midstates Chapter of the Art Libraries Society of North America (ARLIS/NA) Fall Meeting, Cranbrook Academy of Art, Bloomfield Hills, MI, October 4, 2019.