Ryan Cordell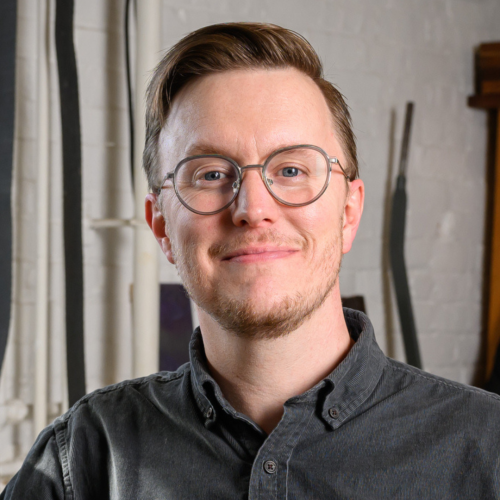 Associate Professor
PhD, English Language and Literature, University of Virginia
Room 5147, 614 E. Daniel St.
Other professional appointments
Affiliated Associate Professor of English, Northeastern University
Affiliated Faculty; NULab for Texts, Maps, and Networks; Northeastern University
Research focus
Book history, book arts, print culture, bibliography, digital humanities, text and data mining, machine learning, and critical making.
Honors and Awards
Senior Fellow, Andrew W. Mellon Society of Fellows in Critical Bibliography, Rare Book School, Charlottesville, Virginia, 2017-present
Lead Investigator with David Smith et al; Transatlantic Platform for Social Sciences and Humanities Digging Into Data Grant; for Oceanic Exchanges: Tracing Global Information Networks In Historical Newspaper Repositories, 1840-1914, 2017-2020
American Council of Learned Societies (ACLS) Digital Innovation Fellowship, 2015-2016
CSSH Outstanding Teaching Award, Northeastern University College of Social Sciences and Humanities, 2014-2015
Biography
Before joining the iSchool, Ryan Cordell was associate professor of English at Northeastern University and a core founding faculty member in the NULab for Texts, Maps, and Networks. His scholarship seeks to illuminate how technologies of production, reception, circulation, and remediation shape the meanings of texts within historical communities, as well as how the complexities of historical texts pressure modern scholarly infrastructure. Cordell primarily studies circulation and reprinting in nineteenth-century American newspapers, but his interests extend to the influence of digitization and computation on contemporary reading, writing, and research. He collaborates with colleagues in English, History, and Computer Science on the Viral Texts project, which uses robust data mining tools to discover borrowed texts across large-scale archives of nineteenth-century periodicals. He is also a practicing letterpress printer who explores intersections between historical and contemporary information technologies through the lens of maker culture. Cordell is a Senior Fellow in the Andrew W. Mellon Society of Critical Bibliography at the Rare Book School and serves as the Delegate Assembly Representative for the MLA's Forum on Digital Humanities.
Current Projects
Platform Literature: Meta Media from 1820-2020
Selected Past Projects
Office hours
In person: Monday 10–11 a.m.
Online: Wednesday 10:30 a.m.–12:00 p.m.

Publications & Papers
Going the Rounds: Virality in Nineteenth-Century American Newspapers, with David A. Smith, Abby Mullen, Jonathan Fitzgerald, and Avery Blankenship.
"Machine Learning + Libraries: A Report on the State of the Field," commissioned by LC Labs, the Library of Congress, 14 July 2020. Announcement post
"Speculative Bibliography," Anglia 138:3 (September 2020), special "Archives" issue, ed. Daniel Stein.
"A Research Agenda for Historical and Multilingual OCR," with David A. Smith, funded by the Andrew W. Mellon Society, 6 February 2019.
"'Q i-jtb the Raven': Taking Dirty OCR Seriously," Book History 20 (2017).
"'Fugitive Verses': Poetry, Attribution, and Circulation in Nineteenth-Century American Newspapers," with Abby Mullen, American Periodicals 27.1 (Spring 2017).
"How Not to Teach Digital Humanities," Debates in the Digital Humanities 2016, University of Minnesota Press (April 2016).
"A Larger View of Digital American Studies," Amerikastudien/American Studies 61.3 (2016).
"What Has the Digital Meant to American Periodicals Scholarship?" American Periodicals 26.1 (Spring 2016).
"Reprinting, Circulation, and the Network Author in Antebellum Newspapers," American Literary History 27.3 (August 2015).
Presentations
"Novels in the News: The Reprinting of American Fiction in Nineteenth Century Periodicals," with Avery Blankenship, Penn Price Lab in Digital Humanities, University of Pennsylvania, Philadelphia, 5 March 2020
"Speculative Bibliography," Modern Language Association Convention, Seattle, Washington, 10 January 2020
"Teaching Humanistic Data Analysis," Gale Digital Humanities Day, British Library, London, UK, 2 May 2019
"Platform Literature: Printers' Memes in Nineteenth-Century Newspapers," Digital Humanities Roundtable Keynote, Colby College, Waterville, Maine, 26 October 2018
"A Pre-History of Fake News," Numapresse Final Conference, Montpellier, France, 15 June 2018
"Stranger Genres: Computationally Classifying Reprinted Nineteenth Century Newspaper Texts," with Jonathan D. Fitzgerald, Digital Humanities 2018, Mexico City, Mexico, 27 June 2018
"Viral Texts: Aggregating Exchange in Nineteenth-Century Newspapers," University of Technology, Sydney, Australia, 9 May 2018
"Fake News: Mapping the Pages of 19th-Century Newspapers," with M. H. Beals, National Library of New Zealand, Wellington, 3 May 2018
"Programmable Type: the Craft of Printing, the Craft of Code," Edward S. and Melinda Melton Sadar Lecture in Writing in the Disciplines, Case Western Reserve University, Cleveland, Ohio, 23 March 2018
"Little Bits of Paper," BH and DH Conference, University of Wisconsin—Madison, 22 September 2017