Elizabeth Hoiem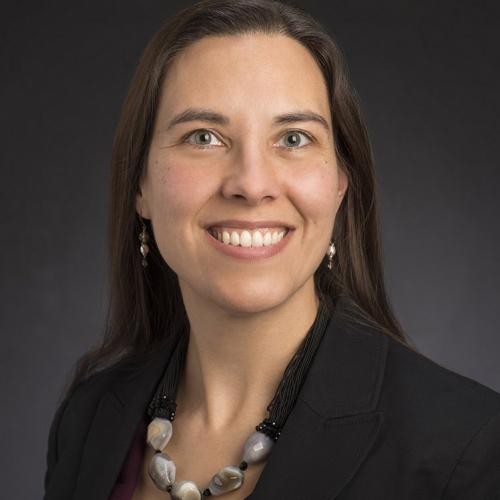 Assistant Professor
PhD, English, Illinois
Research focus
Children's literature and material culture, British literature, history of education and literacy, social history, child labor, thing theory, fantasy, science fiction, science and technology in literature, automata, digital humanities pedagogy.
Honors and Awards
National Endowment for the Humanities (NEH), 12 month fellowship, $50,400, 2018-19.
Humanities Released Time (HRT), Campus Research Board, University of Illinois, Spring 2018.
Illinois Program for Research in the Humanities (IPRH), Graduate Student Fellow (UIUC), 2010-11.
Friends of the Princeton University Library Research Grant, summer 2010.
Biography
Elizabeth Hoiem joined the iSchool faculty as an assistant professor in 2014. She teaches in the areas of children's literature, history of children's literature, reading and literacy, and fantasy literature. In her research and teaching, she explores the history of technological innovations in children's literature—from early children's books and toys to contemporary applications of digital pedagogy—and looks at modern technology through a historical lens. In addition to literature and the history of literature, Hoiem's research interests include digital humanities pedagogy.
Her current book project, The Education of Things: Mechanical Literacy in British Children's Literature, 1762-1860 investigates the class politics behind learning through work and play. Her most recent article, "The Literature of Child Workers," locates an overlooked Radical working-class tradition of writing for children, including broadsides, protest songs, prayers for shorter work hours, hat banners, and Radical journalism. Another article-in-progress, "The Politics of How Things Are Made," investigates production stories [a nonfiction cousin to it-narratives: eg. Amelia Alderson Opie's The Progress of Sugar (1826), Clara Hollos's The Story of Your Coat (1946), Ramin Ganeshram's A Birthday Cake for George Washington (2015)], and asks how these stories pose or elide ethical questions about who makes things, under what conditions, and for whom.
Hoiem received bachelor's degrees in English and communication design from the University at Buffalo, The State University of New York, in 2002. She received an MA in literary and cultural studies from Carnegie Mellon University in 2004 and a PhD in English from the University of Illinois at Urbana-Champaign in 2013. Prior to joining the iSchool faculty, Hoiem was an assistant professor at East Carolina University.
Courses currently teaching
Publications & Papers
"A Child-Centered Universe: Growth and Development in Nineteenth-Century Children's Nonfiction." The Companion to Children's Literature. Karen Coats and Deborah Stevenson, eds. Wiley Press, under review.
"From Philosophical Experiment to Adventure Fiction: English Adaptations of French Robinsonades and the Politics of Genre." Children's Literature (2018).
Tracy, Daniel G. and Elizabeth Massa Hoiem. "Scaffolding and Play Approaches to Digital Humanities Pedagogy:
 Assessment and Iteration in Topically-Driven Courses." Digital Humanities Quarterly 11, no. 4 (2017).
"Radical Cross-Writing for Working Children: Toward a Bottom-Up History of Children's Literature." The Lion and the Unicorn 41, no.1 (January 2017): 1-27.
Hoiem, Elizabeth Fabry Massa. "Object Lessons: Technologies of Education in British Literature, 1762–1851." PhD diss., University of Illinois at Urbana-Champaign, 2013. ProQuest (3614602).
"World Creation as Colonization: British Imperialism in 'Aldarion and Erendis.'" Tolkien Studies 2 (Spring 2005): 75-92.
Presentations
"The Child-Centered Universe of Nineteenth-Century Children's Nonfiction." Children's Literature Association (ChLA), Texas State Univesity, San Antonio, TX, June 2018.
"The Politics of How Things Are Made: Representations of Slavery and Labor in Children's Histories of Technology." ChLA, University of South Florida, Tampa, FL, June 2017.
"Teaching Digital Humanities Tools at a Distance: A Librarian-Instructor Partnership Integrating Scalar into a Graduate Distance Course." Association of College and Research Libraries (ACRL), Baltimore, MD, March 2017.
"Engaging the Public through Digital Publishing." Association for Library and Information Science Education (ALISE), Atlanta, GA, January 2017.
"Reading Objects, Reading books: The Mechanical Literacies of Industrial Britain," ChLA, The Ohio State University, Columbus, OH, June 2016.
"'Naughty full-grown babes': Children's Literature and the Radical Press, 1816-1836." ChLA, Longwood University, Farmville, VA, June 2015.
"British Industrial Labor Movements and the Origins of Modern Adolescence," Landscapes of Childhood II, The University of Lethbridge, Alberta, Canada, April 2015.
"Chartist Children: Rethinking our middle-class definitions of play and work in early children's literature," ChLA, University of South Carolina, Columbia, SC, June 2014.
"Sensible Signs: Object Lessons, Victorian Education, and the Great Exhibition of 1851," North American Victorian Studies Association (NAVSA), London, Ontario, Canada, November 2014.
"Children of the Steam Engine: Industrialization in Books and Toys for Young Victorians," ChLA, University of Southern Mississippi, Biloxi, MS, June 2013.